Acupuncture
During acupuncture the acupuncturist inserts very fine needles into specific points on the body, along energy channels, adjusting and balancing the flow of Qi (energy).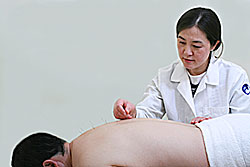 Electro-Acupuncture
Electro-acupuncture is a therapy which combines needling and electrical stimulation by sending a small amount of electric current to the needle after it has been inserted and Qi sensation has been obtained. Electro-acupuncture provides stronger stimulation than regular acupuncture. It is specially recommended for pain syndromes and paralysis.
Auricular Acupuncture
Auricular acupuncture treats and prevents disease by stimulating certain points on the ear with needles, magnets, etc. It can be used in treating many internal diseases, including pain syndromes, smoking cessation, weight control, stress, insomnia, hypertension, etc.
Cupping
Cupping is a method of treating disease by causing local congestion. A partial vacuum is created in jars, usually by means of heat, which are then applied to the skin, drawing up the underlying tissues and forming blood stasis. It is used to treat pain conditions, common cold, muscle tension, cough, etc. It can be combined with acupuncture.
Chinese Herbal Therapy
Chinese herbal therapy is one of the major branches of Traditional Chinese Medicine. The vast amount of Chinese herbal knowledge available today has accumulated in writing for thousands of years. The herbal formulas are prepared mostly from plant leaves, stalks, roots, flowers, seeds or vegetables. This kind of therapy has been used extensively in almost every hospital for all kinds of diseases, and has played a major role in traditional medicine healthcare in China and other Asian countries. Today, herbalists often adjust traditional formulas, based on modern research and experience as well as on individual differences. Traditionally, herbal preparation is in the form of tea decoction. Nowadays, the common convenient and effective herbal products are highly concentrated granules in powders, capsules or pills.